Memoirs Of A Madman (2014)
Žijící rocková legenda Ozzy Osbourne připravuje na říjen letošního roku kolekci svých 17 největších hitů, která vyjde zcela poprvé za dobu jeho celé hudební kariéry. Již 17. října 2014 se fanoušci mohou těšit na Memoirs Of A Madman, které vyjde na nosičích CD, 2DVD, 2LP a v limitované edici i na picture 2LP.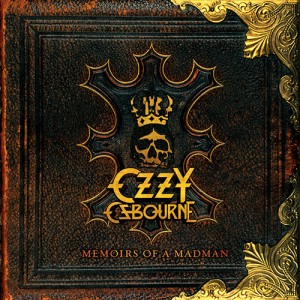 Na DVD se objeví více než dva tucty klasických hudebních videoklipů Ozzyho Osbourna, z nichž mnohá vycházejí na DVD úplně poprvé. Na druhém nosiči najdeme dříve nevydaná živá vystoupení a rozhovory z Ozzyho sólové kariéry.
Kariéra Ozzyho Osbourna trvá již neuvěřitelných 40 let – a to jak sólového zpěváka, tak i jeho kariéra leadera legendárních Black Sabbath. Od svého debutového alba Blizzard Of Ozz, přes Diary Of A Madman, až po dnes již klasická alba No More Tears a Scream, žádný jiný sólový interpret neměl v rockové hudbě takový stabilní úspěch jako Ozzy Osbourne.
Obsah CD:
Crazy Train
Mr. Crowley
Flying High Again
Over The Mountain
Bark At The Moon
The Ultimate Sin
Miracle Man
No More Tears (edit)
Mama, I'm Coming Home
Road To Nowhere
Perry Mason
I Just Want You
Gets Me Through
Changes (with Kelly Osbourne)
I Don't Wanna Stop
Let Me Hear You Scream
Paranoid (live)
Obsah DVD:
DVD 1 – videoklipy
Bark At The Moon
So Tired
The Ultimate Sin
Lightning Strikes
Crazy Train
Miracle Man
Crazy Babies
Breaking All The Rules
No More Tears
Mama, I'm Coming Home
Mr. Tinkertrain
Time After Time
Road To Nowhere
I Don't Want To Change The World (Live)
Changes
Perry Mason
I Just Want You
See You On The Other Side
Back On Earth
Gets Me Through
Dreamer
In My Life
I Don't Wanna Stop
Let Me Hear You Scream
Life Won't Wait
Let It Die
BONUS
Mama, I'm Coming Home (alternate version)
The Making of Let Me Hear You Scream
The Making of Life Won't Wait
Changes (with Kelly Osbourne)
DVD 2
Rochester, NY 1981
I Don't Know
Suicide Solution
Mr. Crowley
Crazy Train
Ozzy's Bunker – Albuquerque (NM 1982), Over The Mountain
MTV 1982( New York, NY 1982) – Fairies Wear Boots (klip)
Ozzy's Bunker – Entertainment USA 1984
Kansas City, MO 1986 (Jake E Lee, Phil Soussan, Randy Castillo) – Bark At The Moon, Never Know Why
Ozzy's Bunker – Killer Of Giants, Thank God For The Bomb, Secret Loser
Ozzy's Bunker (Philadelphia, PA 1989) (Zakk Wylde, Geezer Butler, Randy Castillo) – Bloodbath In Paradise, Tattooed Dancer, Miracle Man
MTV 1989 (Marquee, UK 1991) (Zakk Wylde, Mike Inez, Randy Castillo) – Bark At The Moon (klip)
Studio 1992 (San Diego, CA 1992) (Zakk Wylde, Mike Inez, Randy Castillo) – I Don't Want To Change The World, Road To Nowhere
Japan 1992
Ozzy's Bunker – No More Tears
Studio 1992 – Desire
MTV 1992 – Mama, I'm Coming Home
Studio 1992 – Ozzmosis Recording Session 1995
Ozzfest 1996 (Joe Holmes, Robert Trujillo, Mike Bordin) – Perry Mason
Fame & Fortune
Tokyo, Japan 2001 (Zakk Wylde, Robert Trujillo, Mike Bordin) – Gets Me Through
Fame & Fortune
Ozzfest 2007 (Zakk Wylde, Blasko, Mike Bordin) – Not Going Away
Black Rain Photo Shoot
Las Vegas (NV 2007) (Zakk Wylde, Blasko, Mike Bordin, Adam Wakeman) – I Don't Wanna Stop
Recording Session 2010 (London, England 2010) (Gus G, Blasko, Tommy Clufetos, Adam Wakeman) – Let Me Hear You Scream
BONUS
Philadelphia (PA 1989) (Zakk Wylde, Geezer Butler, Randy Castillo) – Flying High Again
Tokyo, Japan 2001 (Zakk Wylde, Robert Trujillo, Mike Bordin) – Believer